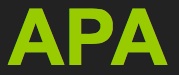 Ink joins the APA

The APA (Advertising Producers Association) was formed by, and represents the interests of, production companies, post production and VFX and editing companies making commercials.
The APA's objective is to create the best possible business environment for its members to operate in and we've just joined. Good news for our clients, good news for us.
Check them out here
10 years, 7 months ago
Ink wins RTS Award

We recently won the RTS award for 'Best Promotion or Commercial' for the work we did for Sheffield University on their 'Dream Bigger Dreams' project, something we produced in conjunction with our chums at Uber. Take a look.
10 years, 7 months ago
The Perfume Shop

We've recently completed the new commercial for The Perfume Shop. While we were on location, we thought it would be good to shoot a 'The Making Of….." film. Here you go.
10 years, 7 months ago
Ink, DFS and Arthur Christmas

Our relationship with DFS goes back many years and the new Christmas campaign brings something fresh to the screen.
The new commercials features elves from 'Arthur Christmas', the new seasonal offering from Aardman Animations and Sony Pictures Animation.
Featuring the voices of James McAvoy, Hugh Laurie, Jim Broadbent, Imelda Staunton and Ashley Jensen, the film tells the tale of Santa's son Arthur who must complete a critical mission before Christmas morning.
Check out the Arthur Christmas site here
10 years, 7 months ago
Ink's New London Office

Along with the 'statement of intent' that is our new identity, the opening of our London office is further evidence of our desire to develop in a significant way.
Based in the traditional heart of our industry – Soho - we're open for business now! This is where we are
Please get in touch and let's meet up for a brew.
10 years, 7 months ago
New Ink Branding

As we prepare to celebrate our third year of being, we have big ambitions for the future of Ink; the work we do, who we do it for and who we do it with.
Consequently, we felt the time was right to evaluate our brand and we knew that we needed a new identity to take us forward
We worked with these guys who designed every aspect of our new look.
We hope you like it……………we certainly do.
10 years, 7 months ago